Gilbert SR Update/Alan&Susan Decorations
Gilbert (G.G.) Sierra SR is recuperating from surgery. Biopsies on spots from his lungs were non cancerous. They had to cut him open to obtain the tissues, so he is still in the hospital at Iowa City. This evening (10/28/12) I spoke to him, he told me that 3% of the top part of one of his lungs has collapse. Doctor is slowly raising the collapse portion with oxygen. He also told me if visiting park in the second ramp, take elevator to 4th floor (east) room # 4058
Let's continue to pray for a speedy recovery for G.G.  
Moline man aims his Halloween display toward little kids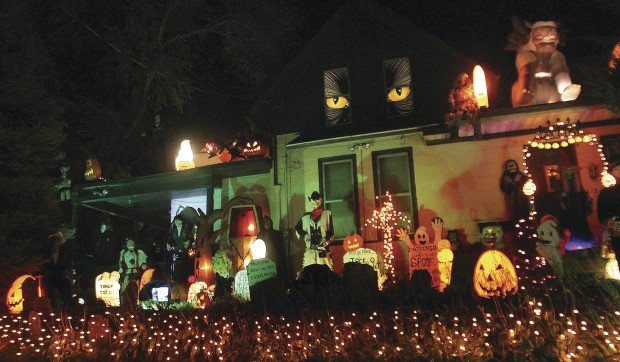 Halloween House
John Schultz
The side yard of Alan Atkinson's house is a two-story extravaganza that ranges from inflatables to movie characters. There's also a television set playing the original "Halloween" movie. (Photo by John Schultz/QUAD-CITY TIMES)
2012-10-28T11:30:00Z 2012-10-28T11:42:41Z Moline man aims his Halloween display toward little kidsAlma Gaul The Quad-City Times
Halloween House
Moline resident Alan Atkinson tries to make Halloween fun for younger kids by
filling his yard with decorations that aren't too scary.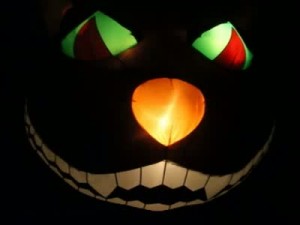 Related Galleries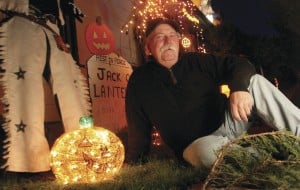 Halloween decorating is in Alan Atkinson's genes.
Among the decorations at his Moline home that literally glows from afar is a skeleton handmade by his grandfather about 75 years ago with a plaster/cement mixture and metal chains.
"He was a big Halloween buff," Atkinson said of his grandfather.
While Atkinson has a few really creepy displays — Jason from the "Friday the 13th" movies holding a severed head with its tongue sticking out, for example — the bulk of what you'll find at the corner of 12th Avenue and 9th Street is aimed at younger children.
"I don't want to scare the kids," Atkinson said. "I want them to like Halloween. The older ones have their haunted houses. This is just make-believe."
So, counterbalancing Jason and some disgusting-looking zombies are smiling pumpkins, smiling witches and a smiling grim reaper. There's even some humor. A dummy dressed in a Chicago Cubs baseball jersey and cap lies next to a tombstone that reads: "RIP Cub fan. He got tired of waiting."
Atkinson's lot isn't huge — 50 by 120 feet — but it's jam-packed, and he even has decorations on the roof of his house, the roof of his garage and on his fence.
He began decorating about 25 years ago and has added to his collection a little bit every year.
"When I was growing up, I liked Halloween," he said. "I remembered it as a good time. Then when we moved here. There were very few decorations and very few trick-or-treaters. I thought maybe if I put out decorations there would be (more trick-or-treaters). And it would be a fun holiday for kids. They'd get a smile on their face."
One of his first decorations was a big plastic pumpkin that got vandalized, but Atkinson was undeterred.
This year's new addition is an inflatable cat with a tail that's two stories high.
Yes, inflatables play a big part in Atkinson's décor nowadays. When asked how many he has, he thinks for several moments and comes up with the number 19. Several minutes later, he makes that 23. Finally, he settles on 25. Several are animated and one plays scary music.
He also has lots and lots of tombstones and characters with colorful and elaborate costumes, such as a pirate, a clown and a cowboy.
Assembling the display and plugging everything in takes Atkinson a full week's time. He even uses vacation hours so he can get everything done.
As Halloween draws closer, the stream of cars motoring by his house gets longer. And on Halloween night, "it's a zoo up here," Atkinson says, adding that he figures he greets about 1,000 trick-or-treaters.
Alan Atkinson is Susan Sierra Atkinson's husband.
To see more photos: qctimes.com/gallery