Mass for Dolores B Rangel
Father Angel will be saying a memorial mass
for Dolores B. Rangel
at noon, this Saturday the 23rd, 2019
at Our Lady of Guadalupe church in Silvis, Il.
After mass a dinner will be at Deerfield Restaurant in Silvis, Il
a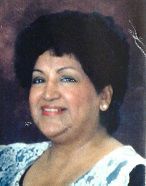 March 25, 1937-September 24, 2019
SILVIS — Dolores B. Rangel, 82, a longtime resident of Silvis, passed away unexpectedly Sept. 24, 2019, at her home in Davenport. Cremation Rites have been accorded, and there are no services to be held at this time.
Dolores was born March 25, 1937, in Moline, the eldest daughter of Hilario and Lena (Blanco) Randel. She was graduate of UTHS Class of 1955. In her earlier years, Dolores held various jobs in the Chicago area and locally, including the Rock Island Arsenal Museum. Later, she served as a full-time caretaker for her parents until they passed away in '88 and '89.
In 1991, she received an associate degree in liberal studies, with an emphasis on culinary arts, from Black Hawk College. She was a licensed cosmetologist who enjoyed cutting and coloring hair since attending Lincoln Barber College and Capri Cosmetology School. She enjoyed cooking family favorite Mexican dishes and making the best fresh tortillas. Her favorite pastime was watching and following her favorite professional basketball teams, and she amazed us with her knowledge of the players.
Dolores will be greatly missed by those left to honor her memory, including her five siblings, E. Bernard (Catherine) of Urbandale, Iowa, Michael P. of East Moline; Bernadette (Maurice) Schaecher of Des Plaines, Ill., Estella of Rolling Meadows, Ill., and Cecilia of Rock Island; and many nieces, nephews, great-nieces and great-nephews.
Dolores was preceded in death by her parents, and her brothers: Richard, Arthur and Hilario "Henry."
A private graveside celebration of her life will be at St. Mary's Cemetery in East Moline at a later date. We would like to offer our sincere thanks to Weerts Funeral Home for their help during this difficult time.