COUSINS MEET ON GRIDIRON ONE LAST TIME
Cousins Neal, Roessler meet on gridiron one last time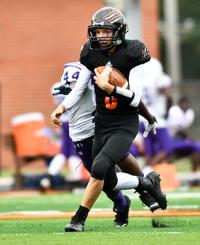 United Township quarterback Bobby Neal scrambles for good yardage during Saturday 46-6 win over Chicago Tech at Soule Bowl in East Moline. Neal completed 11 of 15 passes for 176 yards and four touchdowns and ran for 22 yards on two carriers.
Bobby (Robert) Neal II is the son of Robert and Carol Neal, grandson to Francisco Sierra, great great-grandson to Amador and Jessie Sierra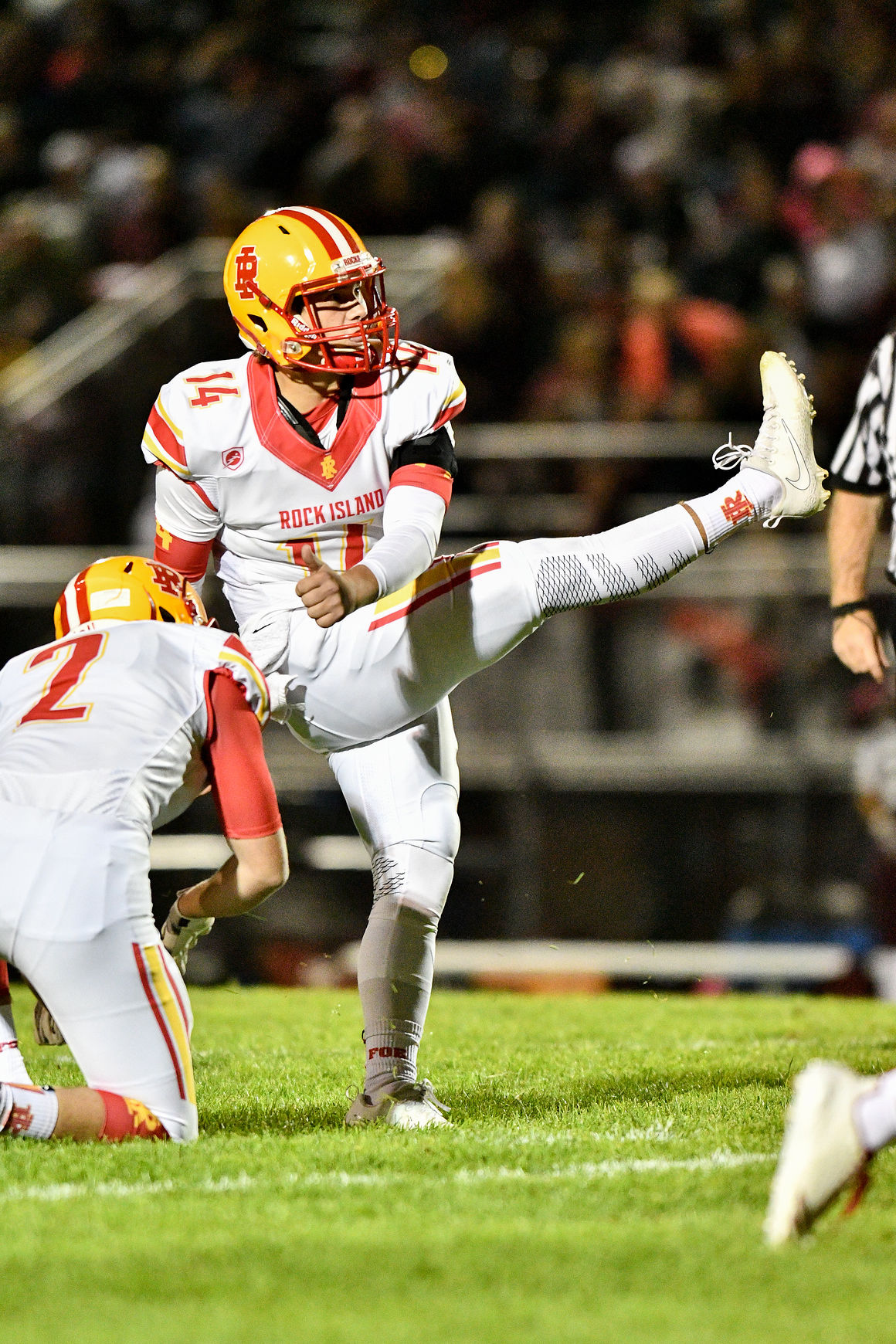 Rock Island Nickolas Roessler (14) Kicks a field goal over Moline during first half of their Western Big 6 game, Friday, Sept 29, 2017, at Browning Field.
Nickolas is the son of Jacqueline Houtekier and Justin Roessler, grandson to Veronica and Jerome Houtekier, Ronna Roessler and great great-grandson to the late Amador and Jessie Sierra.
They have grown up talking sports, playing sports and battling each other on the football field. For one last time, cousins United Township's Bobby Neal and Rock Island's Nickolas Roessler will square off tonight at Soule Bowl.
In a close-knit family, Neal and Roessler are not just cousins, they are great friends. Their battles have been memorable from junior high through high school, but never have they been rivals.
"Our friendship has always been strong," Neal said. "We have been close for a long time and our families are very close."
Added Roessler, "It also helps because we have grown up playing sports and competing against each other."
Aside from the baseball season this spring, tonight will be the final time they will go head-to-head. The six years since junior high have been filled with memories – mostly great, but a few bad ones.
"It's not the best memory but the one I will never forget was when we were sophomores and Bobby got injured in the neck area against us," Roessler said. "That was the scariest thing I can remember. My head kind of got lost in that and it was difficult to play the rest of the game."
Neal is not able to single out one memory, believing ever game against Roessler has been "great."
Roessler says the two talk a lot during the season but Neal says it is never anything of substance.
"We always send each other messages on Friday to hype each other up," Roessler said. "For sure, I will text him Friday and check in on how he is and if he's ready."
Added Neal, "We don't talk a lot during the season because we don't want to give the other any advantages when we play."
Both seniors say there is no rivalry, but Neal may have put a little wrinkle into that this week when comparing the two.
"He can throw the ball farther than me, but I don't think he can make the throws into smaller windows like I can or get rid of the ball as fast as I can," Neal said. "I'm most definitely a better runner than he is."
Roessler just hopes he gets a chance to show his cousin what he can do.
Much of the season, he has played behind junior Ian Purvis for the Rocks. However, he stepped in for an injured Purvis in the second half against Moline last week and completed 12 of 21 passes for 117 yards and ran for 44 yards and a touchdown.
"I am sure hoping I get some playing time at quarterback this week, just because it is my last football game against Bobby, but that's up to coach Hammer," he said. "I just know I played pretty well last Friday against Moline and that may have helped my chances."