Raymond "Jimmy" Campos
April 18, 1939 – April 03, 2018
To See Obituary Click On Link Below
Cousins Neal, Roessler meet on gridiron one last time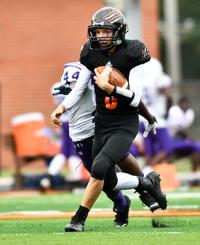 United Township quarterback Bobby Neal scrambles for good yardage during Saturday 46-6 win over Chicago Tech at Soule Bowl in East Moline. Neal completed 11 of 15 passes for 176 yards and four touchdowns and ran for 22 yards on two carriers.
Bobby (Robert) Neal II is the son of Robert and Carol Neal, grandson to Francisco Sierra, great great-grandson to Amador and Jessie Sierra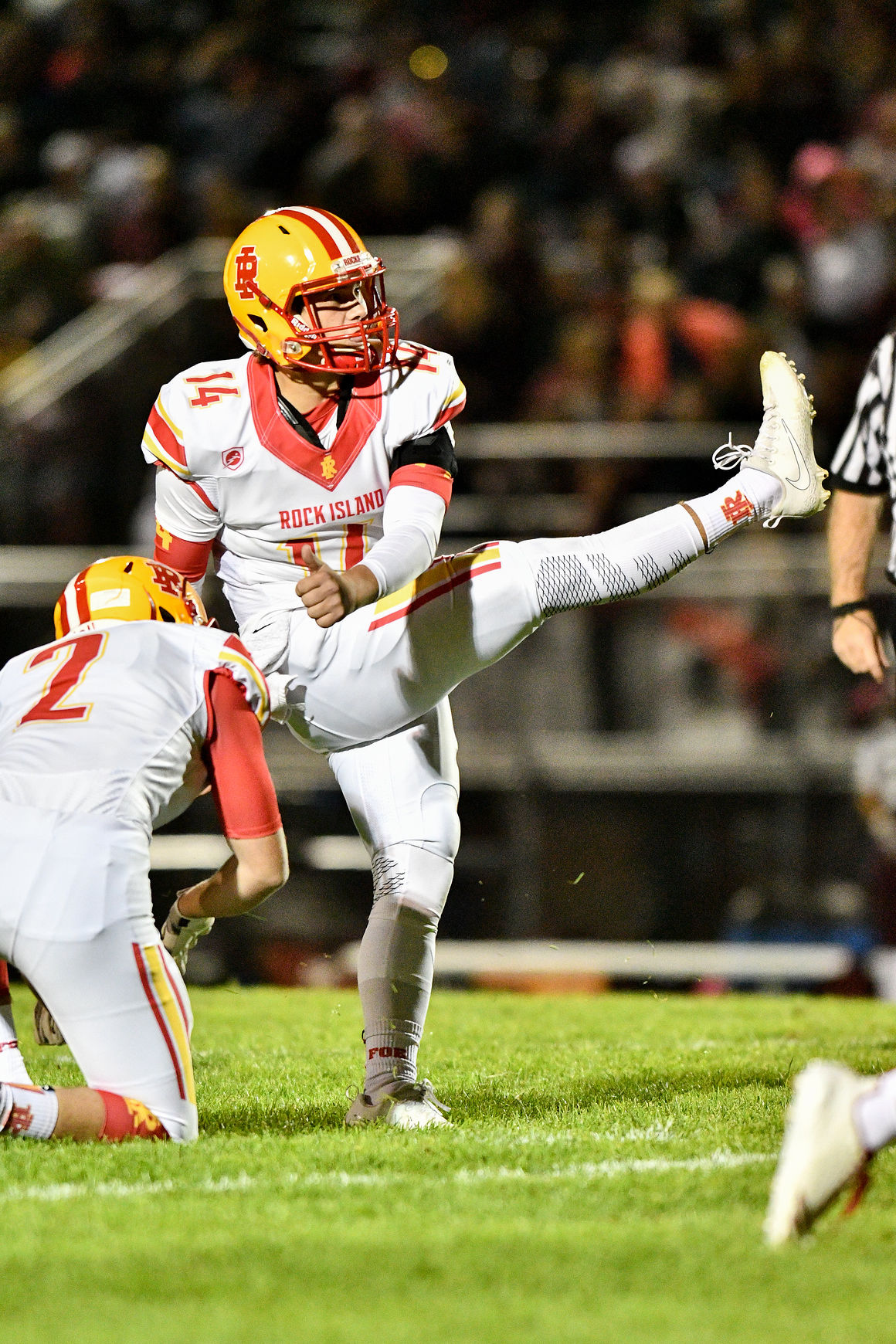 Rock Island Nickolas Roessler (14) Kicks a field goal over Moline during first half of their Western Big 6 game, Friday, Sept 29, 2017, at Browning Field.
Nickolas is the son of Jacqueline Houtekier and Justin Roessler, grandson to Veronica and Jerome Houtekier, Ronna Roessler and great great-grandson to the late Amador and Jessie Sierra.
They have grown up talking sports, playing sports and battling each other on the football field. For one last time, cousins United Township's Bobby Neal and Rock Island's Nickolas Roessler will square off tonight at Soule Bowl.
In a close-knit family, Neal and Roessler are not just cousins, they are great friends. Their battles have been memorable from junior high through high school, but never have they been rivals.
"Our friendship has always been strong," Neal said. "We have been close for a long time and our families are very close."
Added Roessler, "It also helps because we have grown up playing sports and competing against each other."
Aside from the baseball season this spring, tonight will be the final time they will go head-to-head. The six years since junior high have been filled with memories – mostly great, but a few bad ones.
"It's not the best memory but the one I will never forget was when we were sophomores and Bobby got injured in the neck area against us," Roessler said. "That was the scariest thing I can remember. My head kind of got lost in that and it was difficult to play the rest of the game."
Neal is not able to single out one memory, believing ever game against Roessler has been "great."
Roessler says the two talk a lot during the season but Neal says it is never anything of substance.
"We always send each other messages on Friday to hype each other up," Roessler said. "For sure, I will text him Friday and check in on how he is and if he's ready."
Added Neal, "We don't talk a lot during the season because we don't want to give the other any advantages when we play."
Both seniors say there is no rivalry, but Neal may have put a little wrinkle into that this week when comparing the two.
"He can throw the ball farther than me, but I don't think he can make the throws into smaller windows like I can or get rid of the ball as fast as I can," Neal said. "I'm most definitely a better runner than he is."
Roessler just hopes he gets a chance to show his cousin what he can do.
Much of the season, he has played behind junior Ian Purvis for the Rocks. However, he stepped in for an injured Purvis in the second half against Moline last week and completed 12 of 21 passes for 117 yards and ran for 44 yards and a touchdown.
"I am sure hoping I get some playing time at quarterback this week, just because it is my last football game against Bobby, but that's up to coach Hammer," he said. "I just know I played pretty well last Friday against Moline and that may have helped my chances."
Showcase of Bands
Monday, October 2nd, 2017 @ 6:30 pm – 11:59 pm
Almquist Field, Rock Island High School
$5; free ages 6 and under
https://www.facebook.com/RIMSD41
Bands from Assumption, Galva, Orion, ROWVA, Sherrard, Monmouth-Roseville, Rockridge, Galesburg, United Township, Moline, Monmouth College, and Rock Island will perform. Concessions will be sold.
Almquist Field, Rock Island High School
17th Street and 25th Avenue
Rock Island, IL 61201
Blessing of Pets at Our Lady of Grace
Wednesday, October 4th, Our Lady of Grace Catholic Academy will celebrate the feast of Saint Francis of Assisi with a Blessing of Pets. The blessing will take place in the parking lot of the school at 2:30 pm. Everyone is welcome!
Saint Francis devotion to God was expressed through his love of all creation and caring for the poor and the sick. He is patron saint of the poor, animals and ecology.
Mass at 9:30 a.m. for MIGUELA SIERRA MOLINA this Thursday 09/21/17
At Our Lady of Grace School mass in St. Anne's Church East Moline
Dear Family and Friends
I'm proud to inform you that on September 23rd 2017, 6:00pm at City View Celebrations, Moline, IL, our mother, Miguela Sierra Molina, will be awarded the Distinguished Alumni Award posthumously from Trinity College of Nursing & Health Science.  Anyone wishing to attend the dinner please send me your name before Sept. 12th 2017 and get the $30.00 dollars to me, Angela, before the 23rd Sept. 2017,
757 21st Street East Moline Il, 61244. The check(s) can be made out to the
Trinity Alumni Association. But if you simply would like to be there for the presentation of the award, there is an anteroom where you can wait in until it is time to present and there would be no fee for that portion of the evening.
Thank you
Angela & Greg
Angela,
Good afternoon! I wanted to reach out and introduce myself as the new Director of Student Services at Trinity College of Nursing & Health Sciences. You may already know that Lenore Knock retired at the end of June. I am now in her role as the Alumni Coordinator. I know you had been in touch with her regarding your mother receiving the Distinguished Alumni Award at our Annual Alumni banquet on September 23rd. I just wanted to confirm that you are planning to attend to accept the award on your mother's behalf and to find out if any of your other family members are planning to attend. Your meal will be provided by the college.  If anyone else wishes to attend the dinner there is a $30 charge per person, but if they simply would like to be there for the presentation of the award, there is an anteroom they can wait in until it is time to present and there would be no fee for that portion of the evening. I look forward to hearing from you! Have a great day!
Kind Regards,
Hilary Henke, MEd, MS | Director of Student Services and External Relations
2122 25th Avenue | Rock Island, IL  61201
Office 309.779.7720 | Fax 309.779.7748
hilary.henke@trinitycollegeqc.edu | www.trinitycollegeqc.edu
The banquet is held at City View Celebrations,  701 12 Street, Moline, IL The evening begins at 6:00 p.m., with opening remarks and a prayer, then the meal is served, so around 6:45 ish is when we think about proceeding with the main part of the program.
Thank you for getting back to me. I am delighted that you and some of your family members will be attending to honor your mother's legacy. You can simply email me the names of the family members who will be attending and send one check for everyone. If you prefer to send separate checks that is fine too. The check(s) can be made out to the Trinity Alumni Association. I look forward to seeing you!
Good afternoon! I'm not sure that I let you know that we'll need to know the number of people attending by September 13th if they are planning to partake in the dinner so we get a proper headcount to the venue. Thank you!
  CONGRATULATIONS TO  KIOWA SIERRA – 2017 LULAC QUEEN
Kiowa, along with her family (mother Michele Sierra) would like to thank everyone who supported her in achieving this win. She is the granddaughter to the late Gilbert (G.G.) and Sue Sierra, great granddaughter to Lucha and the late Emanual Sierra.
Mexico's Independence Day Parade is a celebration of culture, celebration of people, and a celebration that has become annual tradition in East Moline, IL.  LULAC Quad Cities presents the annual East Moline Fiesta Day Parade and Fiesta in Downtown East Moline.
This year this popular community event is scheduled for Sunday September 17, 2017. As customary this day is more than just a parade. East Moline Fiesta Day Parade is a full day of fun for the whole family. The celebration of Mexican culture will start at 12 PM with a parade in downtown East Moline on 15th Avenue. After the parade is over, participants can expect a party that will take place at the Triumph Community Bank Parking Lot on 15th Avenue from 2:00 PM to 9:00 PM.
This year the Fiesta will have more entertainment, music, food and fun.
DJ Chip Lopez along with Conjunto La Razon and Grupo Insstinto will be the music entertainment for the afternoon, so come prepared to dance the night away.
East Moline Fiesta Day Parade is a free event that is open to the public. For more information about this event please call Abel Zertuche at (309) 737-5915 or Juanita Zertuche at (309) 373-0313.
Maria K. Grumadas, 53, of East Moline, passed away Saturday, Aug. 12, 2017, at UnityPoint Health-Trinity Rock Island.
Arrangements are pending at Schroder Mortuary, Silvis.
Maria is the daughter of the Late Esperanza (Hope) and David Hay
Granddaughter to the late Amador and Jessie Sierra
As of 08/07/17
We still have available some Bandit Tickets for Tuesday 8/8/17 game
Call Peter Sierra 309-752-0138