Robert Neal is married to Carol Sierra Neal,the son-n-Law of Fransico Sierra son of the late  Amador and Jesses Sierra.
Quad-Cites Marine always ready to help
Aug 23, 2020 Updated 21 hrs ago
U.S. Marine veteran Robert Neal Jr. of East Moline poses for a portrait next to the Hero Street Memorial in Silvis. As a kid, Hero Street was a great place for him and his friends to play. After his six years in the military, he appreciates the significance of the historic street even more. "I have spread the word of Hero Street quite a bit to other people who don't know about the sacrifice of the Mexican-Americans from this community who died in combat," said Neal.
The U.S. Marines, his grandmother, and the streets of East Moline's Watertown neighborhood have all shaped Robert Neal Jr. into the man he is today.
The loving husband and father of five (three of which also served in the military) was nominated for "Stories of Honor" by his wife, Carol. Her nomination praised Neal as a Marine, a father, and a dedicated community volunteer.
Neal's childhood got off to a rocky start but everything changed during the summer before starting the 5th grade at McKinley Elementary School, in East Moline. He was taken in by his maternal grandmother because his home life had become unstable. He joined his three uncles, the last of his grandmother's 11 kids still at home, in their two-bedroom house.
"She took me in and raised me and did the best she could by herself. My grandfather passed away when I was younger. And she worked for the Illinois Department of Public Aid in Rock Island," said Neal.
Helen Cervantes only stood 5 feet 5 inches tall but the level of positive influence she had on Neal's life is only rivaled by his experience in the U.S. Marines.
Looking at Robert Neal Jr. it's no surprise that he's a Marine. His short auburn hair, freckles, and muscular build defy his age. The lines around his eyes offer the only clue that he is 53 years old. The retired corrections officer always carries himself with the confidence and discipline first instilled in him by his grandmother and then amplified by the Marines. That calm confidence comes in handy as a student supervisor at United Township High School, a job he's been doing for the last two-plus years.
He joined the Marines after graduating from United Township High School in 1985.
"I wasn't really ready for college and I liked the discipline of the military. I played sports in high school. And I thought, if I'm going to try this I want to do the hardest thing. So I was in the Marine Corps infantry for six years," said Neal. He also served with a special ops unit and "jumped out of planes."
Neal speaks fondly of his days on 17th Street but it openly admits it was a tough neighborhood with its share of violence.
"17th Street in East Moline, where I'm from, a lot of those guys have gotten in trouble and done some time in prison. But, there are also a lot of guys who went on to work at John Deere, start businesses, or go into the trades."
"But I didn't see myself as a factory worker. I didn't want to punch a clock. I hadn't really traveled much as a kid. I wanted to see the world. So having not traveled or been to a lot of places I thought the military was an opportunity for me to do this."
Joining the Marines opened up the world to Neal. Before enlisting the furthest he had ever traveled from home was to an amusement park in Cincinnati, Ohio. But, while standing at the World's Fair in Brisbane, Australia, in 1988 the young Marine was fully conscious of how far the kid from Watertown had come.
"I thought wow, I've come a really long way. Or when I was at the Olympics in Korea 1988, I thought wow, this is awesome. Or, when I was in Sydney for their Bicentennial that year, you know all those things. And then you see the USS Arizona down in Hawaii. These are things that you'd read about and maybe I thought I'd never see because of my circumstances. The military provided me an opportunity to experience all those places."
Neal says, "the mental stress of serving during a time of war" was the worst thing he experienced in the military. The best thing about his service is the lifelong bond he has with the people in his unit.
It's that unbreakable bond that has driven him to raise money and awareness of the epidemic of suicide among his fellow veterans.
The day before sitting down to be interviewed for "Stories of Honor" Neal was in Texas to honor a member of his squad who had recently committed suicide.
For the 21 days before his trip, Neal had been participating in the Active Heroes' 22 Push-up Challenge to help raise awareness and donations to help prevent veteran suicide. He completed his last set of 22 push-ups next to the grave of his squad-mate Michael Benavides.
Veteran support groups like Active Heroes are trying to stem the tide of suicide among veterans.
According to a 2019 article published in the Military Times, "In the last four years, the official government estimate on the number of veterans who die by suicide has gone from 22 a day to 17 a day in the latest Veterans Affairs report. But the rate of suicides among veterans didn't decrease over that span. Instead, the way the figures are sorted and presented did.
Instead, outside experts note that by many markers the problem has grown even worse. The total number of suicides among veterans has increased four of the last five years on record. From 2007 to 2017, the rate of suicide among veterans jumped almost 50 percent.
Veterans are 1.5 times more likely to die by suicide than Americans who never served in the military. For female veterans, the risk factor is 2.2 times more likely."
Neal doesn't know for sure how he has avoided some of the mental health struggles that so many of his fellow veterans endure, but he thinks it might have something to do with his growing up in Watertown.
For more information on preventing veteran suicide:
SIERRA FAMILY REUNION MEETING JUNE 28, 2020 MINUTES
2020 Sierra Family Reunion Minutes
 Please remember those who have from Covid 19
Vino Terronez – Van Hoe Funeral Home
Ricky Martinez – Keko Martinez son
from Cruz T. Sierra family.  Wheelanpressly.com
There is a Go Fund me account
Please continue to pray for those fighting off Covid 19
Mark Reyes, Keko Martinez
SIERRA FAMILY REUNION meeting
has been held today 06/28/2020 at 2:00pm.
Majority ruled :
NO

Sierra Family Reunion this year 2020
due to Covid'19
Minutes will follow at another date.
SIERRA FAMILY REUNION
A meeting will be held
Sunday June 28th 2020,
Time 2:00pm
At Ben Butterworth Park
in East Moline, Il
Bring your lawn chairs, bring
Your own beverage
No food will be served
Agenda:
Weather we will have
a reunion or not
Due to pandemic virus
As of now we are only on
Phase three
THANK YOU  THANK YOU
Hello Family, I hope all is well with everyone.
I went last Wednesday to Peoria to hear the results of my CT scans. 
The Doctor confirmed good results, everything so far is clear.
 I will do another follow up in three months. 
Thank you all for your support and prayers 
which help me fight the enemy called cancer. 
Tasia and Rachel Sierra, my guardian angels on earth, thank you 
both of you were there for me with each step I had to take to fight cancer. 
Thank you Barb Sierra for sharing your knowledge in fighting cancer. 
Miguela, Lola, Jeremy, Rudy and Anthony thank you for helping 
when I needed help at home. Thanks to my brother Greg
who kept in touch to check on me. 
Thank you God for all the Blessings you have given me 
yesterday, today and all of my tomorrows. Amen
SIERRA FAMILY REUNION
A meeting will be held 
Sunday June 28th 2020,
Time 2:00pm
At Ben Butterworth Park 
in East Moline, Il
Bring your lawn chairs, bring
Your own beverage
No food will be served
Agenda:
Weather we will have 
a reunion or not 
Due to pandemic virus
As of now we are only on
Phase three
Dear Family, as today is Thanksgiving and most of you are enjoying a wonderful meal, I would like to seize the moment, by reminding you that 2020 will mark the SIERRA FAMILY REUNION 50th anniversary. Please talk amongst each other for any suggestions on how to make the 2020 reunion a memorable one. I for one would like to have a family crest. If anyone is interested in designing one I have some notes and pictures my mother had to develop one herself. Also what about doing a golf tournament like we used to do, just for 2020. I would like to have a meeting before the posadas begin which is Monday December 16 2019. I will not be available Monday December 2 nor through December 04th to the 11th. I will have my Portal for chemo treatment put in on December 16th. My thoughts are to have a meeting on Sunday the 15th of December or have it in January 2020. Im asking for a family member to volunteer to help me in getting this meeting set up. Getting a location and time. Also I need volunteers to take minutes at meetings. If anyone is interested in hosting a meeting in your home let me know. 
Happy Thanksgiving                      
Angela I. Molina
Father Angel will be saying a memorial mass
for Dolores B. Rangel
at noon, this Saturday the 23rd, 2019
at Our Lady of Guadalupe church in Silvis, Il.
After mass a dinner will be at Deerfield Restaurant in Silvis, Il
a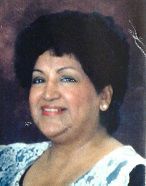 March 25, 1937-September 24, 2019
SILVIS — Dolores B. Rangel, 82, a longtime resident of Silvis, passed away unexpectedly Sept. 24, 2019, at her home in Davenport. Cremation Rites have been accorded, and there are no services to be held at this time.
Dolores was born March 25, 1937, in Moline, the eldest daughter of Hilario and Lena (Blanco) Randel. She was graduate of UTHS Class of 1955. In her earlier years, Dolores held various jobs in the Chicago area and locally, including the Rock Island Arsenal Museum. Later, she served as a full-time caretaker for her parents until they passed away in '88 and '89.
In 1991, she received an associate degree in liberal studies, with an emphasis on culinary arts, from Black Hawk College. She was a licensed cosmetologist who enjoyed cutting and coloring hair since attending Lincoln Barber College and Capri Cosmetology School. She enjoyed cooking family favorite Mexican dishes and making the best fresh tortillas. Her favorite pastime was watching and following her favorite professional basketball teams, and she amazed us with her knowledge of the players.
Dolores will be greatly missed by those left to honor her memory, including her five siblings, E. Bernard (Catherine) of Urbandale, Iowa, Michael P. of East Moline; Bernadette (Maurice) Schaecher of Des Plaines, Ill., Estella of Rolling Meadows, Ill., and Cecilia of Rock Island; and many nieces, nephews, great-nieces and great-nephews.
Dolores was preceded in death by her parents, and her brothers: Richard, Arthur and Hilario "Henry."
A private graveside celebration of her life will be at St. Mary's Cemetery in East Moline at a later date. We would like to offer our sincere thanks to Weerts Funeral Home for their help during this difficult time.
Father Angel sent an invitation
 for All Souls Day Mass at Christ the King Church in Moline Il. 
 Saturday November 02 2019, starting at 4:30pm. 
It will honor Simon Sierra, a flower will be given
 The Camille Sierra
family will be hosting this year's 2019 tailgate party
at Butterworth park September 13th at 4 30 pm
Please bring your own beverages
 side dishes/desserts are welcome
eating utensils will be provided.